Pierre-Antoine TILLARD (FRA)

France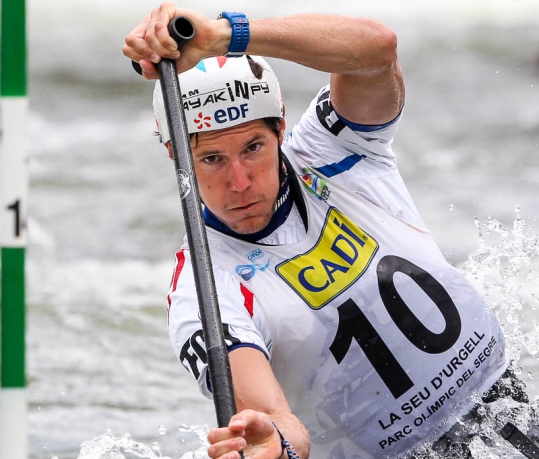 Biography
Further Personal Information
NICKNAME
PAT [Pierre Antoine Tillard]
WHEN/WHERE DID YOU START CANOEING/ KAYAKING?
I start paddling after Sydney Olympic Games in 2000 at age 14th
REASON FOR TAKING UP THE SPORT
I like water contact, be outside and playing every day to discover new feelings.
HOBBIES
Surfing, travelling, geeking
NATIONALITY OF YOUR COACH
SINCE WHEN HAVE YOU BEEN COACHED BY HIM/ HER?
2011
SENIOR INTERNATIONAL DEBUT YEAR
SENIOR INTERNATIONAL DEBUT COUNTRY
Slovenia
SENIOR INTERNATIONAL DEBUT COMPETITION
SENIOR INTERNATIONAL DEBUT LOCATION
MEMORABLE SPORTING ACHIEVEMENT
Winning the World Cup final in 2015 in Pau, France. Victory at the french team trials in C1 (2015)
PREFERRED POSITION / STANCE / STYLE / TECHNIQUE
MOST INFLUENTIAL PERSON IN CAREER
Armand Rauturier (coach from 2002 to 2012)
TRAINING PARTNER(S)
Team Kayakinpy especially Thomas Koechlin (SUI) & Edern Le Ruyet (FRA)
HERO/IDOL
Tony Estanguet, Kelly Slater
SUPERSTITIONS/ RITUALS/ BELIEFS
"don't like the bib number 13 ! or 31 or 113"
SPORTING PHILOSOPHY/ MOTTO
Always more, never enough
FAVOURITE PADDLING COURSE
FAVOURITE MUSIC
The avener, Disclosure, Justice, Daft Punk