Helene RIPA (SWE)

Sweden
Languages:
Swedish and English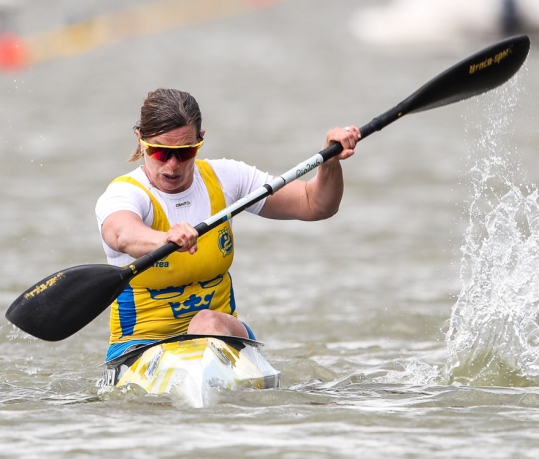 Biography
Further Personal Information
PLACE OF RESIDENCE
Stockholm
OCCUPATION
Art Director and Typographer
HIGHER EDUCATION
University (Graphic Project Manager)
WHEN/WHERE DID YOU START CANOEING/ KAYAKING?
Summer 2015
REASON FOR TAKING UP THE SPORT
Paddling started to supplement my cross-country skiing. I needed something new to push me to continue to train hard. After encouragement from the Swedish Canoe Federation, in September 2015 I started a serious commitment to the World Championships in Duisburg with the hope of taking a quota place for the Paralympic Games in 2016 in Rio. I love the freedom of paddling, enjoying nature and the beautiful surroundings. There is nothing better than to train outdoors, whether it's on the water or on snow. The combination of long, peaceful recreational workouts to replenish your energy and tough interval workout where the lactic acid sprays are the best of both worlds. 
CLUB
Brunnsvikens Kanotklubb
NAME OF COACH
Henrik Nilsson (personal)
NATIONALITY OF YOUR COACH
Swedish
SINCE WHEN HAVE YOU BEEN COACHED BY HIM/ HER?
June 2016
TRAINING REGIME
I work 10-15 hours per week depending on what time it is in the year. Often the training is done before and / or after work. Sometimes I put a gym sessions at lunchtime. I need to plan my time meticulously and have acquire routines to get thru everyday because I combine my elite training with a full time job. When it comes to canoeing I still need to develop my paddling technique, while I during the winter season will continue with cross country skiing. I believe in a varied exercise to keep the body intact and motivation high. I also put a lot of time and energy to find the optimal prosthetic solutions to perform at the elite level. My husband is invaluable, he has repeatedly invent brilliant solutions that made it possible for me to ski fast or paddle fast.
SENIOR INTERNATIONAL DEBUT YEAR
2016
SENIOR INTERNATIONAL DEBUT COUNTRY
Germany
SENIOR INTERNATIONAL DEBUT COMPETITION
World Cup
SENIOR INTERNATIONAL DEBUT LOCATION
Duisburg
MEMORABLE SPORTING ACHIEVEMENT
2014 Paralympics Sochi – Gold medal (Cross Country Skiing). 2016 World Championship Duisburg – Took a spot in the final and thereby qualifying for Paralympics in Rio. 2016 European Championship Moscow – Gold medal. Surprised myself and a lot of people by winning the gold.  2016 Paralympics Rio – 5th place after less than one year in the canoe.
MOST INFLUENTIAL PERSON IN CAREER
My husband Ronnie
AMBITIONS
I love to perform. To do so requires the training at the elite level and it motivates me is to see how good I can be. The competition motivates me to keep focused, helps me to want to evolve. Often I set goals that are bordering on absurd, but it is needed to bring the "devil" in me. Once I've decided, I'll go in with everything I have, 100%. I like to train hard and training makes me also feel good both physically and mentally. As long as I find joy in my training and as long as I want to evolve, I will continue. It is not impossible that you will find me on the start line in Pyenog Chang and / or Tokyo ...
OTHER SPORTS
Cross Country Skiing (representing Sweden since 2012), Swimming (represented Sweden 1988–1993), Mountainbike Orienteering (medals National Championships)