World champions Nevin Harrison of the USA and Portugal's Fernando Pimenta celebrated ICF canoe sprint world cup gold in Hungary on Saturday, but they had to survive incredibly tight photo-finishes to secure their titles.
Gold in the six Olympic-class finals contested in Szeged on Saturday were shared between six different countries, with Italy's Andrea Di Liberto an ecstatic men's K1 200 winner, and Hungarian Anna Lucz thrilling her home crowd with a nail-biting win in the women's K1 200.
Moldova's Serghei Tarnovschi celebrated his return to international racing after serving a four-year ban for a doping offence by winning the men's C1 1000, while the Belgian duo of Hermien Peters and Lize Broekx overcame a slow start to win the women's K2 500.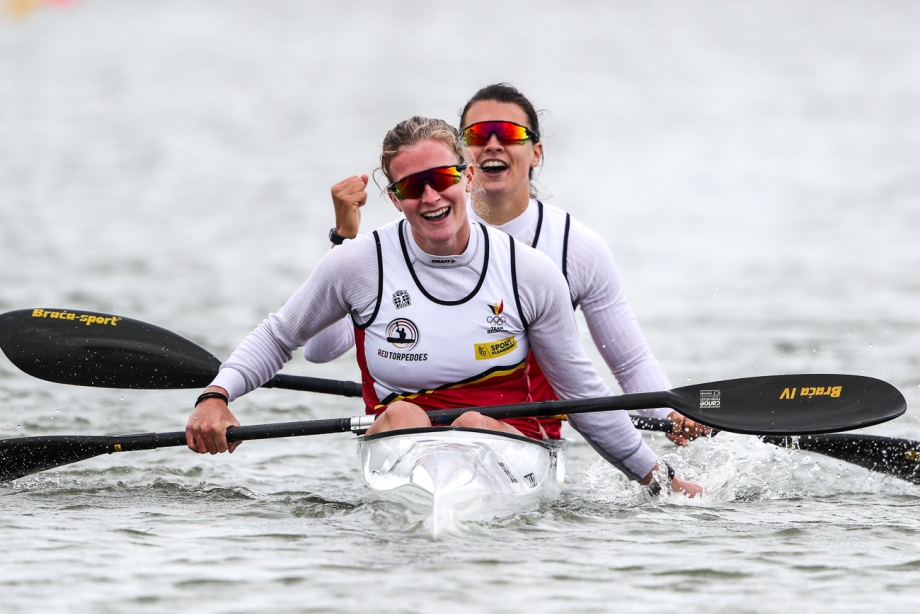 International travel restrictions robbed the world cup of several top-class international athletes, but it did not diminish the quality of Saturday's racing and the excitement of several tense finishes.
Reigning women's C1 200 world champion Nevin Harrison was not sure if she had held out Ukraine's Liudmyla Luzan in Saturday's final. The final margin of 0.02 seconds confirmed the American gold by a coat of varnish.
"It's really exciting, it was super close this year," Harrison said.
"I'm just happy that we could come to Szeged and get on the racecourse again. I've been in Hungary for the past two weeks, training here is amazing."
Luzan later won gold in the non-Olympic C1 500 final.
Portugal's Pimenta, the men's K1 1000 world champion in 2018, proclaimed "Pimenta is back" after holding on to beat reigning world champion and hometown favourite, Balint Kopasz, by just 0.24 seconds.
Pimenta took a gamble by going out hard, and held a two-second lead at the half-way stage. Kopasz flew home over the final 200 metres, before finishing agonizingly short of gold.
"I feel so good, to come to Szeged, the home of canoe, and to win, I'm so happy," Pimenta said.
"This season for me has been so hard for my body and my head. I have had during my preparation some great moments, but also some moments of disappointment. I always want to give a good show, and today we had a fantastic race, side-by-side fighting until the last metre."
Kopasz turned the tables one hour later, winning the non-Olympic K1 500 and relegating Pimenta to the silver medal.
The ICF canoe sprint world cup finishes on Sunday, with finals including the men's and women's K4 500, the women's C2 500 and the men's K2 1000.
Pics by Bence Vekassy