A three-day International Canoe Federation conference in Sweden has tackled future trends in paracanoe and explored new ways to make the sport more accessible for recreational and professional paddlers.
The audience in Stockholm heard keynote speakers outline the latest technology being used in paracanoe, likely breakthroughs in the future, and the long-term outlook for the sport.
There were also first-hand accounts from countries which have already broken new ground in the development of paracanoe, including embracing the recreational paddling community.
The chairman of the ICF Paracanoe Committee, John Edwards, said all participants - physios, team leaders, high performance managers, athletes, researchers and recreational instructors – learned from the conference.
"There was something for everybody.There was information that everybody could take away, no matter their background," Edwards said.
"One of the emerging themes in that conference was the importance of connection to the recreational and medical rehabilitation sectors and communities. It is that connection that is going lead to the success of Paracanoe in the future."
Several athletes took part in the conference, keen to hear about future plans for paracanoe at a Paralympic and World Championships level.
Sweden's Helene Ripa, a KL3 gold medallist at this year's Paracanoe World Championships in Portugal, said she hopes the conferences are held regularly, and expanded.
She also spoke about the challenges confronting potential athletes.
"I think paracanoe has an opportunity to grow, because it is a sport that fits everyone. But there are challenges in each country, to get people to do paracanoe and to raise money to compete," she said.
"It is a big step to do paracanoe in Sweden, then to go in a world championships. You have to look at your own country and make the competition more accessible for everyone. You can have a national competition, and maybe compete with able bodies in the same classes, maybe with younger paddlers to make it more equal in time.
'The classification may in the future be one or two more classes to make it more narrow and more equal. In some classes, there is a big difference between athletes that are at the borders of the class, such as the KL2. That would make the competition more fair, and therefore more enjoyable for everyone."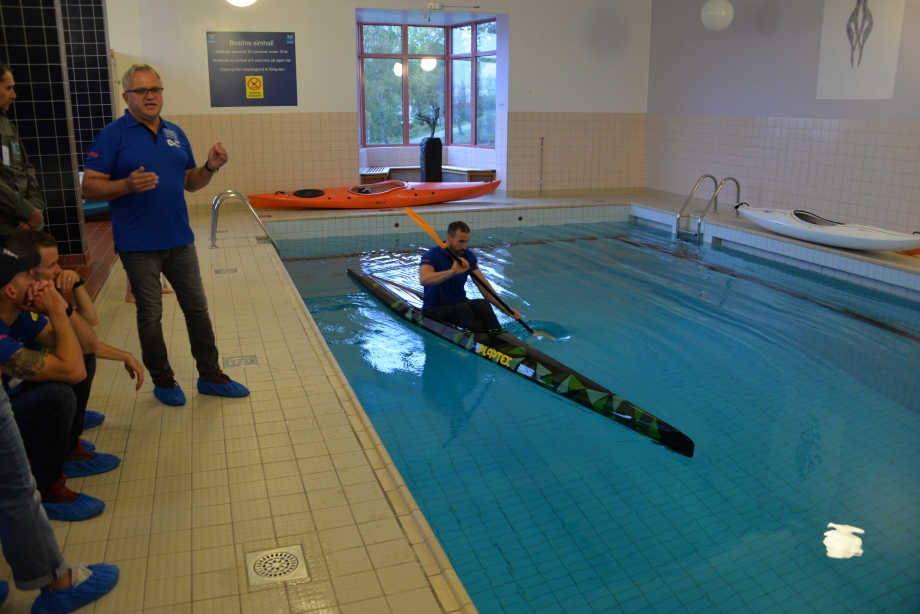 Ripa encouraged participants to embrace change, and to continue to explore new ways to bring more athletes into competition. She said this would include constant review of the classification system and the disciplines available.
"It is very restrictive to have only one discipline of 200 metres," she said.
"For my class, KL3, it is often the case that we are not even enough for heat, only direct finals. So it is a long journey for only one race.
"Maybe you can fix that if you put two classes together, but separate the results, to make it more competitive, more exciting, and more races"
There were safety displays in a swimming pool at the conference centre, and many of the participants expressed surprise at the new technology which is being pursued, and also with the diversity of projects being undertaken all around the globe.
Among those projects is a successful program in Brazil focusing on tetraplegic athletes, which caught the attention of British keynote speaker and 2017 KL3 World Championship bronze medallist, Jonny Young.
"It has been really good to see diverse aspects of the sport, that I as an athlete don't necessarily engage with," Young said.
"Like the work that is going on in Brazil with tetraplegic athletes competing, and things that honestly I never even considered was happening before. It's really good to see that there is a lot more to paracanoe than the 200 metre event, but also there is a lot of knowledge going into improving the 200 meters event.
"When you combine those two, the progression of the sport is very good to see. There is a solid foundation for the sport to grow on, it has been really positive to see how much potential our sport has, and I think a conference like this where people gather from all over the world showing so many different elements, it is just really good to see the sport has a future.
"It would be really great to see more opportunity for that, more joined up thinking, that we then develop things positively for the sport."
Seventeen countries were represented at the Stockholm conference, which was made possible through the support of manufacturers Nelo and Plastex.