Birkett and Owen set early pace at Drak Challenge
Andy Birkett and Robyn Owen claimed the respective men's and ladies spoils, on a day of drama and incidents that moulded the final overnight leaderboard on the opening day of the 2018 N3T Drak Challenge in South Africa.
The fickle weather left the uMzimkulu River running very low, forcing the organisers to shorten day one of the challenge, however the racing was white hot off the line at Sinister Pools, the usual day one finish.
Birkett and long-time rival and now FNB Dusi partner Hank McGregor managed to get away from the rest of the field and take control of the majority of the 19km first stage of the men's event on their own.
It was predicted to be a two-horse race and it was shaping up to be an exciting finish until McGregor made an error, opening the door for Birkett to take the lead and he hammered the advantage home to win by two minutes.

"It's always awesome racing against Hank, now that we are racing Dusi together it adds a little bit of a different dynamic," Euro Steel's Birkett said after his stage win.

"It's now just two mates paddling next to each other and if I take a bad line he will correct me and vice versa which makes it more fun.

"I managed to get away from Hank just above Glenhaven Rapid, and on a low river it's just luck of the draw and luckily I managed to get a gap until the finish."

An underlying theme amongst all of the top paddlers at the Drak Challenge is that of enjoyment first and racing second. The conscious effort to have fun is a key point for Birkett.

"Look, I'm just here to have a 'jol'," he quipped. "Tomorrow I just want to have fun on the river and just enjoy paddling on a river that I love.

"If I can just go out there and have a good time tomorrow then I'm stoked!"

As Birkett hunts a fifth consecutive Drak title, Euro Steel/Kayak Centre's McGregor will be hoping that day two can go his way and he can make up that two minute gap. It was a tough second half for McGregor who paid the price for a few trivial errors as he pushed the pace to catch Birkett.

"Andy and I went into a rapid and I was on his tail and he got beached on some rocks and I came behind him and bounced off him and pushed him out and I got stuck!" McGregor said.

"He managed to capitalise on his own mistake!

"When I got to Glenhaven I was looking to see where he was going and I pegged on the pinicle rock and I had to get out which cost me a lot of time.

"The water level is just really low so the harder you try the worse it gets, but I had a fun day."

McGregor holds a slender six second advantage over the charging Lance Kime, but the two have a solid two minute buffer over the wily Ant Stott in fourth with Johannesburg's Siseko Ntondini rounding out the top five.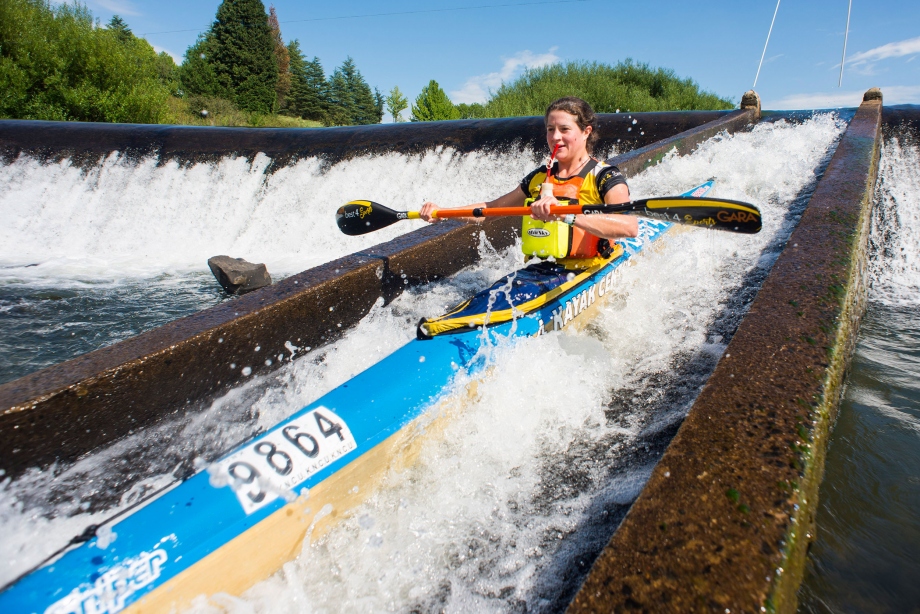 The women's contest is set for a thrilling finale on Sunday with 2013 champion Robyn Owen and Jenna Ward finishing one second apart at the end of the first stage.

Owen, who is currently prepping for the Coast2Coast adventure race in New Zealand, has been paddling a fair amount and is using the Drak Challenge as part of her build up to the race next month.

"I have been training hard for the Coast2Coast but this is perfect training for the event," Owen said at the finish at Callaway on Saturday.

"In the low river I can get away with being a little less fit than I should be for the Drak."

With a sense of the unknown going into the second stage, Owen is keeping her wits about her knowing the prowess of Ward who will be starting with her on Sunday.

"I know Jenna is really strong and in some of the deeper sections on Sunday she will be really tough to beat.

"The chasing girls are not that much further back and they are also strong.

"It's awesome to be in the mix with such a competitive ladies field and I'm really happy that I can be up at the front," Owen added.

Chasing the pair of Owen and Ward are a group of three with Cana Peek finishing third, Bridgitte Hartley fourth and Christie Mackenzie in fifth. The gap to Peek is three minutes and 45 seconds while Hartley is 23 second behind Peek and Mackenzie is just two seconds behind Hartley.

In the age group showdowns, Alan Houston leads the Under 23 field by 20 seconds over Stewart Little with Maswenkosi Mtolo a further minute and seven seconds behind second place.

The women's Under 23 showdown is going to go down to the wire with Cana Peek holding a slender advantage of just 25 seconds over Christie Mackenzie.

Maritzburg College's David Evans leads the Under 18 boys race, just 13 seconds ahead of his K2 partner and school mate Hamish Mackenzie. Maritzburg College dominates the top three with Kelly Tarr in third place in the junior boys contest.

In the junior girls race it was Cara Waud who crossed the line first ahead of Amy Peckett in second and Tracy Oellermann in third.

Stage two of the 2018 N3TC Drak Challenge will take paddlers from Callaway Bridge to the finish at Hopewell Farm close to the Coleford Resort. More information can be found at www.drak.co.za.

SUMMARY OF RESULTS - 2018 N3TC Drak Challenge Stage One

Overall
1.Andy Birkett 1:23:05
2.Hank McGregor 1:25:04
3.Lance Kime 1:25:10
4.Ant Stott 1:27:26
5.Siseko Ntondini 1:27:28
6.Carl Folscher 1:27:46
7.Sbonelo Khwela 1:27:55
8.Alan Houston (U23) 1:29:45
9.Andrew Houston 1:29:47
10.Stewart Little (U23) 1:30:05
11.Grant van der Walt 1:31:07
12.Adrian Boros (HUN) 1:31:08
13.Maswenkosi Mtolo (U23) 1:31:12
14.Mmeli Cele 1:31:50
15.David Evans (U18) 1:31:51

Women
1.Robyn Owen 1:35:26
2.Jenna Ward 1:35:27
3.Cana Peek (U23) 1:39:12
4.Bridgitte Hartley 1:39:35
5.Christie Mackenzie (U23) 1:39:37

Under 23 Men
1.Alan Houston 1:29:45
2.Stewart Little 1:30:05
3.Maswenkosi Mtolo 1:31:12

Under 23 Women
1.Cana Peek 1:39:12
2.Christie Mackenzie 1:39:37

Under 18 Boys
1.David Evans 1:31:51
2.Hamish Mackenzie 1:32:04
3.Kelly Tarr 1:38:12

Under 18 Girls
1.Cara Waud 1:50:45
2.Amy Peckett 1:50:57
3.Tracy Oellermann 1:59:07